Home & Decor
Home handcraft items are the best decor ideas ever.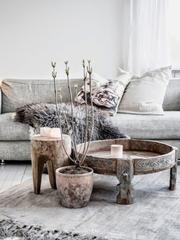 People all over the world fill their homes with emotions, memories, beauty and comfort. There is no matter what your home is a tent, a flat, an ordinary house or villa. The main thing is content that lies in Home and décor ideas. Creating your new home decoration do not listen to the Internet, advice and trends. Try to feel it being inspired, happy, hungry or even angry. Make the uniqueness of your home by using handmade décor. If you think designer's handmade house décor is expensive you can always find alternative but cute homemade accessories. 
To put decor interior accents use decor accessories 
Sometimes it is quite difficult to put the right home decor accents. Especially when it comes to bedroom designs or kitchen decor. There are too many room accessories and styles. Just start with the simple. Find handmade decor element you can love and build the idea around it. Great idea is a handmade ceramic plate which can inspire you to change the whole home life.
 Not to make your choice random and useless. Here are completely different ways of homemade house décor. Your home is walls and selling. It opens a wide field for you fantasy. To find your cool home decor you need time and money, planning and effort. You can re-design your home the whole life looking for luxury home decor, room accessories or asking your friends to give you homemade presents on any occasion. It is difficult to talk about one or several handmade decor styles and items. But we can share some great ideas. To make your life easier.
Choose froma a wide range of decorative items: ceramic and clay, wood and wool
Here is some tips about wall and ceiling decor ideas.
To dress up your walls you do not need wallpapers and paints. Do it with shelves. Variety of materials and ideas run from wood, cooper pipes to belts etc. They can be corner like for you home greening or hanging for children toys. The maximum you need is hands, drill, clay, material and idea. The homemade wall décor surprises your family with handmade paintings, patchwork canvas, handmade ceramic plates.
Some people think the white celling is the best solution. Why not it looks very stylish and awesome. Contemporary home decor allows you to use paintings, molding, wood boards. Ceiling home décor accents include strips, flowers, abstractions. Just imagine you can walk on it and decide what it would be like.
Decorating home pay attention to details giving them the most hidden meaning. For sure, the best decoration for home is handmade items.