Handmade christening suits are perfect for baby boy baptism ceremony
Celebrate different children's occasions with baby boy clothes and baptism rompers. When you suit your infant in such enthralling items, your daughter or son looks like princess or prince. Our collection of "fashion-mongers" represents what is baptism mean for loving parents. Ukrainian artisans prepared the newborn clothes in best traditions of love and care about kids.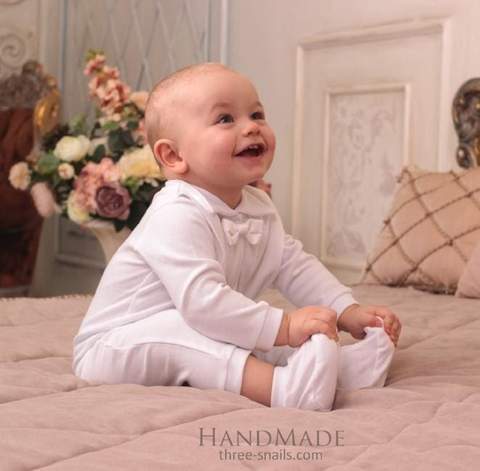 Baptism clothes for boy

- baby feels more comfortable and enhance his mood 

Why is it important to choose handmade baby clothes? Explore this list of advantages and be sure you will find what you love.
Our suits for babies are made of delicate and smooth to touch material
Christening soft romper and warm vest let your kid's skin to breathe and don't irritate it
Our shop offers you a wide range of unexpected combination of amazing and wonderful clothes for newborn boys
We guarantee the quality fabric and exceptional design of our products
Baptism boy outfits reflect baby's personality and show how true little gentlemen should look like
Sweet and delicate apparel is distinctive feature of our creations that any stylish mother will adore
Where to buy
baby christening gowns and suits

?

If you look for great options for baptism ceremony and other events, check out our excellent ideas of suiting your babies . With no hesitation, purchase what you need all around the world. If you got interested in Ukrainian masterpieces, we will help you to make the best choice with great pleasure.