Items 1-32 of 105
Page
You're currently reading page

1
Items 1-32 of 105
Page
You're currently reading page

1
Unique jewelry sets – ready solution for your flawless style
At times, it is not easy to decide if your accessories go well with your clothes or match each other. In this case, three-piece jewelry is a perfect and easy response to your possible doubts. Repeated patterns on its items echo with each other creating an interesting play.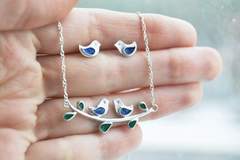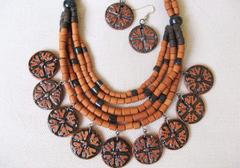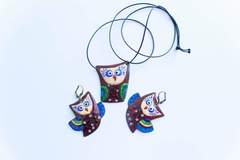 Traditionally, they include a necklace, a ring and earrings but sometimes their elements may vary containing bracelets, pendants or hairgrips.
Beads jewellery sets amaze with their tiny pieces and micro techniques of accomplishment
Leather items performed as leaves or bells look soft, bright, cute and extraordinary
Sterling silver sets are valued by boho style lovers
Macramé or jute products are great for those who choose ethnic and eco things
Epoxy jewelry is a fresh touch of nature
Polymeric clay bijouterie are fashionable and nice
Vintage or antique copper pendants, rings and earrings amaze with their endless display of stone and glass shades
Buy three piece jewelry sets online and experience the advantages of worldwide shipping!
Silver, thread, bead, leather, stone, glass, clay, eco jute, wood – whatever material you choose, the product will please you with high performance and rich colour palette.
It will complement or accentuate your attires of any tints and for any possible occasions.