Chunky bead necklace: be stylish and different every day
Ukrainian females are well-known for their creativity and passion to decorate themselves. In ancient times, girls made their clothes and collected accessories long before getting married. This showed prosperity and diligence.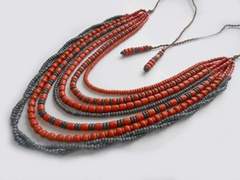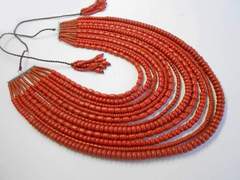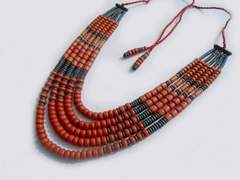 What is more, each item in traditional Ukrainian jewelry had their particular meaning and some of them were not all about beauty. Necklaces were regarded as amulets, so the more was put on when going outside, the better.
The red coral necklace was the most precious. It was a cherished dream available from foreign trades only. Times have changed and one does not have to wait for merchant vessels any longer. Coral necklaces are easy to get online and are often matched with earrings for impeccable complete looks.  
Gerdan is a long broad bead necklace falling down to the waist. It contains geometric and less frequently floral patterns. The combination of ornaments and tints can tell the region where it is created. Sylanka is another popular name for it. Sometimes, girls used gerdan as an accessory for hair. In Western Ukraine, it might be seen on male hats as well
Kryza is similar to gerdan in ornament but is different in form coming around the neck and covering breasts and shoulders
Zgarda is the case when accessories are worn not only for decoration but protection as well. Such a thing contains coins (ducats) and crosses and was presented to a girl at a certain age (6 y.o. for the first time). It is remarkable that the first crosses in them date back to pre-Christian times
Eager to order beaded necklaces for women?
Check the colourful display for your everyday look or a special occasion at the Three Snails store and be unique with customized handmade crafts. They show flawless taste and make you closer to the heart of the Ukrainian nation. Which one do you like best?